WHY CHOOSE OUR PRODUCTS
RIO MOBILITY: Over 16 years of experience with wheelchair attachments
Frequently Asked Questions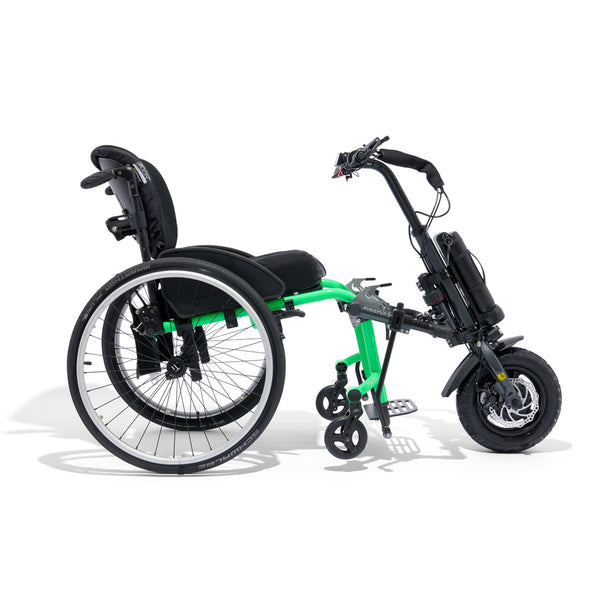 What is the range of the Firefly?

The Firefly offers a range of 12-13 miles per charge, but you can always purchase a secondary battery to double the range.

How fast does it go?

The Firefly can go up to 12 mph with five speed settings.

Is my wheelchair compatible with your products

Does insurance cover the Firefly?

The Firefly is considered a recreational device, however some plans may reimburse for recreational wheelchair attachments. Check with your provider for details.

Testimonials
Read our Customers Experience with our products
We traveled the world before, but the Firefly has changed everything with how we explore so much more. Our lives are so much richer with the Firefly.  
The Firefly has improved my mobility in ways I can hardly verbalize. My husband is no longer bound to PUSHING me and we can move along SIDE BY SIDE, or he can carry luggage and children instead of helping me navigate a store or the airport.
While we traveled a lot before, I have so much more freely traveled the cobblestone streets of Germany and the marble pavers of the DC monuments with the Firefly, now able to keep up with my young children (who often try to hitch a ride).
I just wanted you to know how much I am enjoying my dragonfly.  I became a quad 18 years ago when I was 56. Heretofore, I was only able to get aerobic exercise by pushing my chair.  The unit allows me to become a trike without having to transfer.  The push-pull crank is great upper body exercise and I am now able to "bike" with my wife in her recumbent. Rougher terrain is so much easier to traverse which has extended my destination options.  Thanks for making it possible.
I just wanted to share with you that I turned 3,500 miles on my firefly today! I had no idea when I received my firefly back in November 2013 how much it would help me in my life! Without it I would have been stuck at home unable to go to work, Dr. appointments,  the grocery store, the bank,  to run errands, etc... When people see me zooming around town they smile, wave, and even honk. It's easy to strike up a conversation as people wonder about this fabulous piece of equipment.
The firefly has had such a positive impact on my life and I'm extremely grateful for what it has done for me! Thank you so much 
I recently purchased a Firefly. I had also purchased an older model several years ago and it changed our lives! I love the freedom it gave us to explore and travel without my wife having to push my chair. I had over 135 miles on my old Firefly.
Yesterday my wife assembled my new Firefly using your YouTube assembly video as a guide. It was a breeze! Kudos for the excellent instructions! We love the ease of installation of this newer model. It hooks onto my chair in seconds. The older model could be a little cumbersome attaching all 4 latches, but it did work well for us.
We have so far researched a  lot of the Northern Oregon coast, from Astoria down to Florence. During my time using the firefly I have had several people ask me about it. The Firefly is a product I love and truly believe in.  Your improvements have been phenomenal. 

Thanks so much for designing the Firefly!
We have received our order, have assembled, and test drove it. My daughter is absolutely in love and the neighbors are in awe. I cannot thank you enough for this awesome creation. If there is a place that I can leave a review and/or comment about this device, I feel that I need to praise you publicly for this because it is so awesome!
So, I recently purchased the Rio Firefly just about two weeks ago. Its AMAZING! Honestly life changing. Its really a great product! Small, lightweight, simple, long battery life, and fast....what more could you ask for.
$2,599.00
$2,895.00
saving
$296.00
MORE ABOUT RIO MOBILITY
Read our latest posts
Better Business Bureau® Accredited